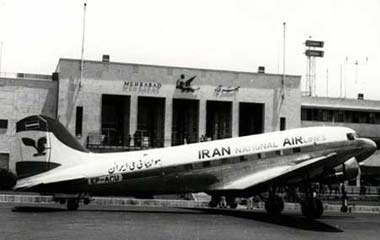 In 1926, almost 22 years after wright bros. 1st flight, the exclusive rights of air transport exploitation granted to a german company called "Junkers" in accordance with a law emanated by government. Junkers stipulated a five year period contract and estabilished a center for conducting tecnical traning.
However, the Junkers activities in Iran did not last so long, and the government estabilished an aerial estabilishment to render the services of aeronautics, using the german pilots and airplanes denominated: "Dragon" to operate in domestic and regional flights to some neighboring countries.
With the advent of 2nd worldwar before mentioned estabilishment was disorganized and dissolved finally.
In 1946 after, Iran Airways was founded by the private sector, exploiting a limited fleet of small, and subsequently taken possession of 17 aircrafts.
Later, Iran national airlines commenced schedule flights operations initially from Mashad and Tehran.
The Airline of the Islamic Republic of Iran (IRAN AIR), known as "Homa" (the fabulous bird of Persian mythology) was established in February 24, 1962. In 1964, the airline became a member of International Air Transport Association (IATA), and in 1983 joined World Tourism Organization (WTO), as an Affiliate Member.
Over the past four decades, the Airline has gone a long way and now, it flies to 27 domestic destinations and 40 major cities abroad, Iran Air today has a fleet of 36 aircraft and employs more than 12,000 personnel.
In order to provide greater comfort for Haj pilgrims and ensure their timely departures, the airline schedules its flights to Jeddeh using different operational stations in order to carry over 90,000 pilgrims annually.
Homa prides itself with its Manpower Development and Training Center, which offers courses in engineering and maintenance, flight operations, flight services, ground services, general fields, sales, foreign languages and Islamic culture.
The Engineering and Maintenance Department of Iran Air handles overhaul, repair and maintenance of aircraft and components.
Catering is one of the largest departments of Iran Air with more than 1,000 employees. This department, as a self-supporting center, now provides catering services to more than 25 international airlines, local carriers and commuters.
By making a brief review of the fundamental operations and function of IRAN AIR, we can conclude that it has succeeded in expanding its networks, insuring safety of flights, continuing manpower development, establishing computerized data system, renovating offices, modernizing airport equipment and conducting major overhauls of aircraft and its parts.